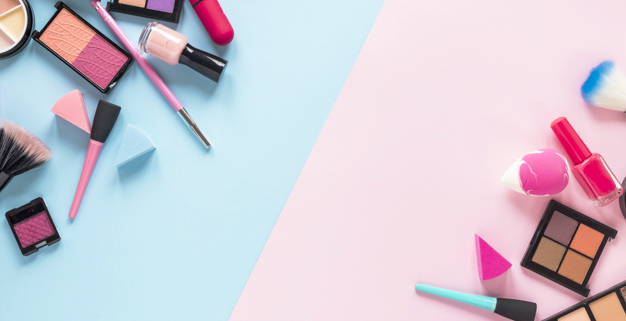 Korean Makeup VS. Western Makeup
If you walk in the streets of Seoul and the streets of Paris and look at the makeup, you would be able to see a considerable difference between the makeup styles. While western makeup tends to vary quite often, and there are a lot of trends that are made even more popular by instagram famous makeup artists and YouTuber beauty gurus, there's still a surprisingly uniform style to western makeup looks. While Korean makeup trends also seem to vary a bit in recent years, they certainly keep a much more specific makeup style for longer. We will point out all the differences between Korean Makeup VS. Western Makeup here :
Eyebrow :
The biggest difference you can see is the eyebrows. Asian makeup tends to generally have more straight and rectangular shaped eyebrows. This trend has been common in Korea for a very long time.
In western makeup, more defined, thick yet natural eyebrows seem to be the norm. Many women draw their eyebrows to make them have a more defined arch.
.
Eye makeup :
In Korean makeup, it's quite common to use more glitter and other sparkly products on the top eyelid and/or under eyes Pony Effect would be a good reference for Korean-style makeup. This helps to brighten up and enlarge the look of the eyes. It's also quite common to use lighter or more natural eye shadow colors to keep a more youthful look.
In western-style makeup, it's often seen darker colors, specially dark eyeliner (such as the infamous "cat/wing eyeliner", as well as smokey eyes or matte and neutral colors Huda Beauty is a perfect example for a Western-style makeup. These styles help to give a sexier look, specially when going out at night, and it can also make people look more mature.
.
 Blush :
Korean women seem to prefer a more peachy, slightly red color to their cheeks, possibly because it helps make the makeup look seem more youthful, and it often times also gives a soft blush to the cheeks. They usually wear it on top of the apples of the cheek, sometimes extending to the sides of the nose.
Western women generally go for more pink shades and softer colors. They generally focus more on contouring and highlighting to change the shape of the face–like making it look sharper or thinner.
.
Lips :
A very popular trend in Korean makeup has been the gradient lips for a few years now, although some Korean women are beginning to use a full lip or red lipstick a lot more often.
In western makeup, it's a lot more common to go for a more full matte look, using liquid lipsticks, or trying to make the lips look bigger by drawing on them with lip liner.
.
……
Of course, not everyone does this type of makeup, and korean makeup trends change all the time–whether it be once every few years, or multiple times in one year. It's also perfectly fine if you don't wear makeup, just be you and be confident in yourself.
In your JoahBox, we try to include makeup products that you can use for any type of makeup look. Would you be interested in getting some products to specifically do "Korean-style" makeup looks? As always, let us know your thoughts in the comments!
……
---