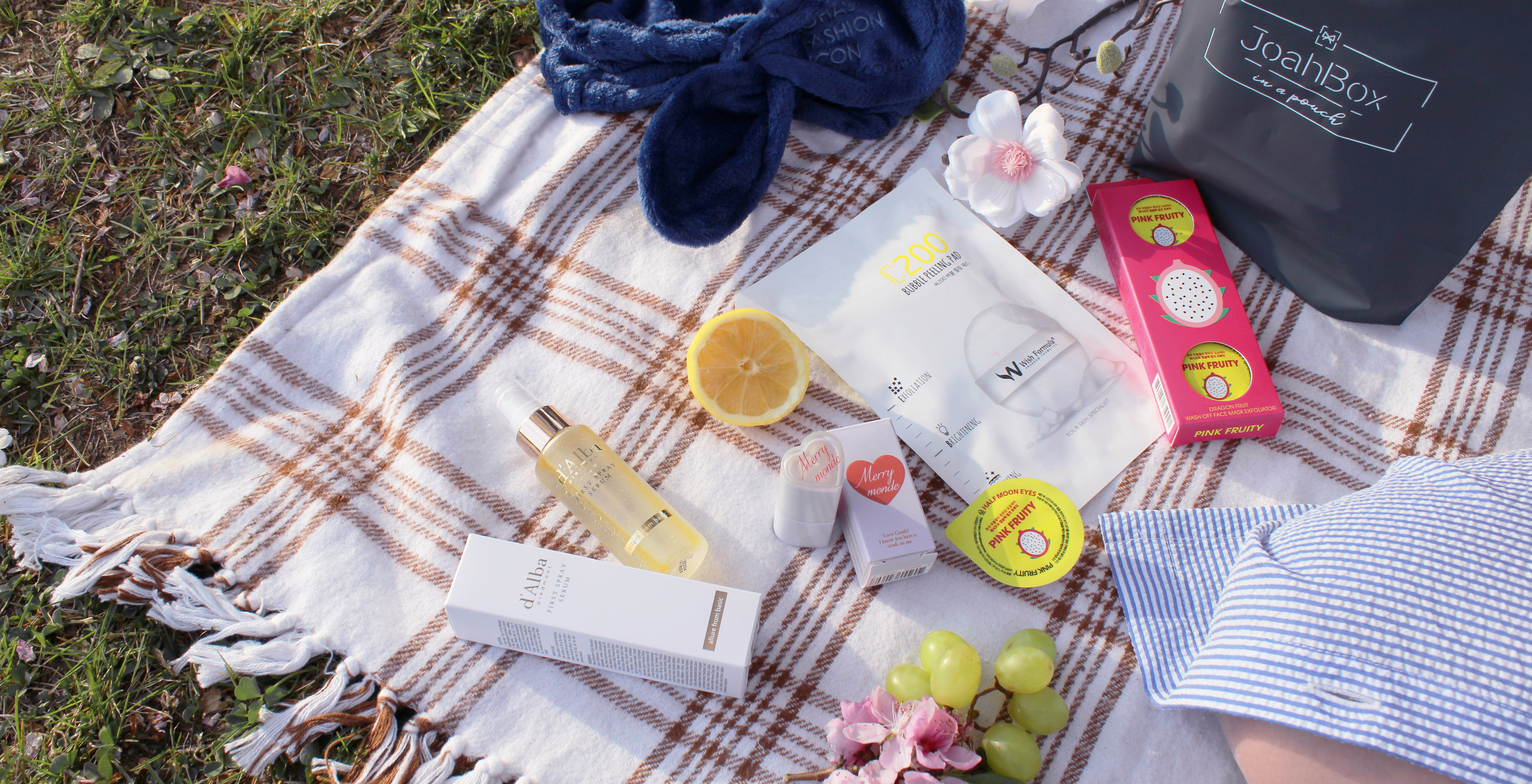 April 2019 JoahBox – Unboxing
– Beauty In Full Bloom –
April is the month of Cherry Blossom here in Seoul, South Korea. We consider you as the prettiest flower and wanted to make you extra shiny with this April JoabBox. Therefore, we included many cosmetics that will help you get the perfect Korean Glass Skin. Let's discover together the April 2019 JoahBox Unboxing.
……
* C200 Bubble Peeling Pad – WISH FORMULA // 8$

This innovative dual peeling system uses a patented fermented peeling solution and a peeling pad. It will gently slough away dead skin cells, dirt and debris. Containing effective exfoliating ingredients such as Vitamin C and AHA to give skin a gentle 'peel'. As a result, it will reveal brighter skin by gently buffing cleansed face with the puff, using up to 2x per week. This product is Vegan.
HOW TO USE : After removing makeup, wet the pad with a few water drops and pour the peeling base onto the sponge. Right After, place your fingers through the band and gently rub your face for about 1 minute. Finally, flip the sponge over and rub on your face to absorb additional vitamins and nutrients before rinsing with lukewarm water.
JOAHBOX TIPS : You can use the peeling pad can be used up to 3 times. Make sure to close the liquid pouch very well after use, because Vitamin C is very sensitive ingredient. Use a good layer of sunscreen the day after using this product and moisturise the skin well after use.
.
* White Truffle First Spray Serum – D'ALBA // 20$

This cult Korean product went viral after it was revealed to be the secret behind Korean airline hostesses' beautifully hydrated complexions in flight. With star ingredients like : Avocado Oil, White Truffle, Niacinamide (Type of Vitamin B3).
HOW TO USE : Get your glass skin #onpoint with this travel-friendly vegan misting spray – just remember to give it a shake before spraying to evenly distribute the layers of oils at the top. Also, you can use the spray as part of your skincare routine, or throughout the day to pep skin and combat air-conditioning and heating.
ABOUT D'ALBA PIEDMONT : Blending European and Korean skincare styles, luxury Korean label d'Alba Piedmont gives skin a sensory experience.
.
* Pink Fruity (3 Set) – HALF MOON EYES // 8,5$

Half Moon Eyes Dragon Fruit Pink Fruity is a wash-off mask to tighten pores and remove impurities from pores, without drying out the skin. It contains talc, kaolin, allantoin, shea butter, dragon fruit extract, squalane, honey, and other botanical extracts. This comes in a one-time use capsule that tears open easily. Very hygienic and travel-friendly.
HOW TO USE : Use once a week after cleasing, apply a proper amount let it work for 10 minutes. After, you should wash off with warm water to break down the dried particules with circular massaging motion.
.
.
* Love Crush Heart Highlight OR Shadding Stick – MERRY MONDE // 22$
A creamy stick, adding luminosity or contour to the skin. Infused with moisturizing jojoba seed and other nourishing ingredients providing a long-wear. Blends effortlessly with sponge or brush. Also to mention. This product is Vegan.
HOW TO USE : Apply to in the area needed, and blend it. You can also apply this highlighter or the shadding on your collarbones to give some reliefs.
.
.
* Headband // 5$
Do your skincare routine in style and comfort! With this adorable and cute headband. You can keep unwanted hair from your face while cleansing and applying your skincare products.
.
.
.
.
…..
We are really waiting on your different comments on this April 2019 JoahBox Unboxing ! Can you tell us your favorite product and if you have any expectation for your next JoahBox ? If you want to order your May korean beauty box it's here.
---