– ME, MY SKIN & I –
In this June JoahBox, we tried to combine some of the best anti-aging korean cosmetics with some good products to survive the summer heat ! We hope you will enjoy our June 2019 JoahBox Unboxing. 
Galactomyces Drylock Mask // I'm Sorry For My Skin – 10$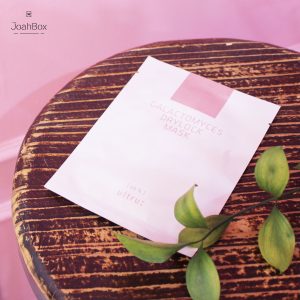 This face mask contains 69% of Galactomyces to straighten the skin barrier. Galactomyces is a type of fungus that helps to nourish and revitalize the skin while reducing signs of aging. It's considered as one of the strongest ingredients in skincare to help improve your skin mainly used in Korean & Japanese cosmetics. This mask also maintains moisturization with a deep anti-aging care. It has been technically conceived to keep the ampoule on the mask and be more efficient than classical sheet masks.
HOW TO USE : After double cleansing your face, and applying toner, put it on your face for 10-20 minutes. After removing, pat the remaining essence.
Time Stop Collagen Ampoule// The Plant Base – 29$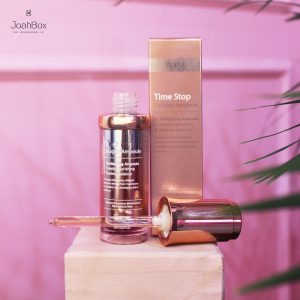 In this box, we included the Time Stop Collagen Ampoule because collagen is one of the skin's components that support your skin's elasticity & strength. This Ampoule will help to reduce the appearance of fine lines and wrinkles. This anti-aging ampoule can be mixed with other skincare products to boost it. This Ampoule contains 76,53% of Mushroom extract (Hericium Erinaceum, Tremella Fuciformis and Schizophyllan).
HOW TO USE : After cleansing & toner, take several drops of the product either on your hand or directly on your skin and gently pat until it's absorbed.
Air-Fit Lipstick // RiRe – 17,5$
After trying all of the RiRe lipstick, JoahBox team decided to add in our June box the Air-Fit one. It's velvet matte lipstick that feels as light as hair. As summer is just around the corner, we wanted you to get something very light to wear with no-sticky effect. This lipstick is also easy to apply and will leave your lips with vivid color for a long time.
Length OR Volume Boost Cara – Line // Missha – 9$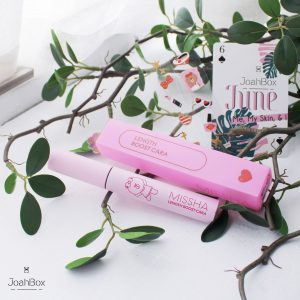 The Boost Cara from Missha got adorable with this "Line" edition. You can use the character, on top of the packaging, you received as a bookmark. This mascara is no-clumping, long lasting and easy to wash. The Volume Boost version will give your lashes volume, & dark look and the Length one will provide you clean, long look.
Aloe Vera Moisture Soothing Gel // Farmstay – 3$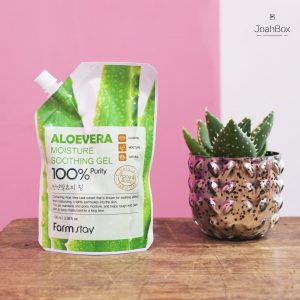 This Aloe Vera Moisture Soothing Gel is free from mineral oil, artificial pigment, benzophenone, and paraben. It will provide moisture and nutrients to your skin but also soothe damaged skin, and offer a cool sensation. This aloe soothing gel is mainly composed of aloe vera leaves. This gel can be used on your face, but also body and hair.
HOW TO USE : You have many options to use your Aloe Vera Soothing Gel. First as water mask, or eye mask. Or you can simply apply it as a moisturizing cream. It's the perfect product to soothe sunburned skin. But you could also use it as hair care.
JOAH TIP : You can put it in your fridge for a better cooling effect to cure the sunburn. It's also nice to apply some after shaving or removing hair on your body.
Give us your toughts on this  June 2019 JoahBox Unboxing ! Also, we are really curious to know your favorite June product and what you would like to see in your next JoahBox. To order your July korean beauty box, it's here.
---