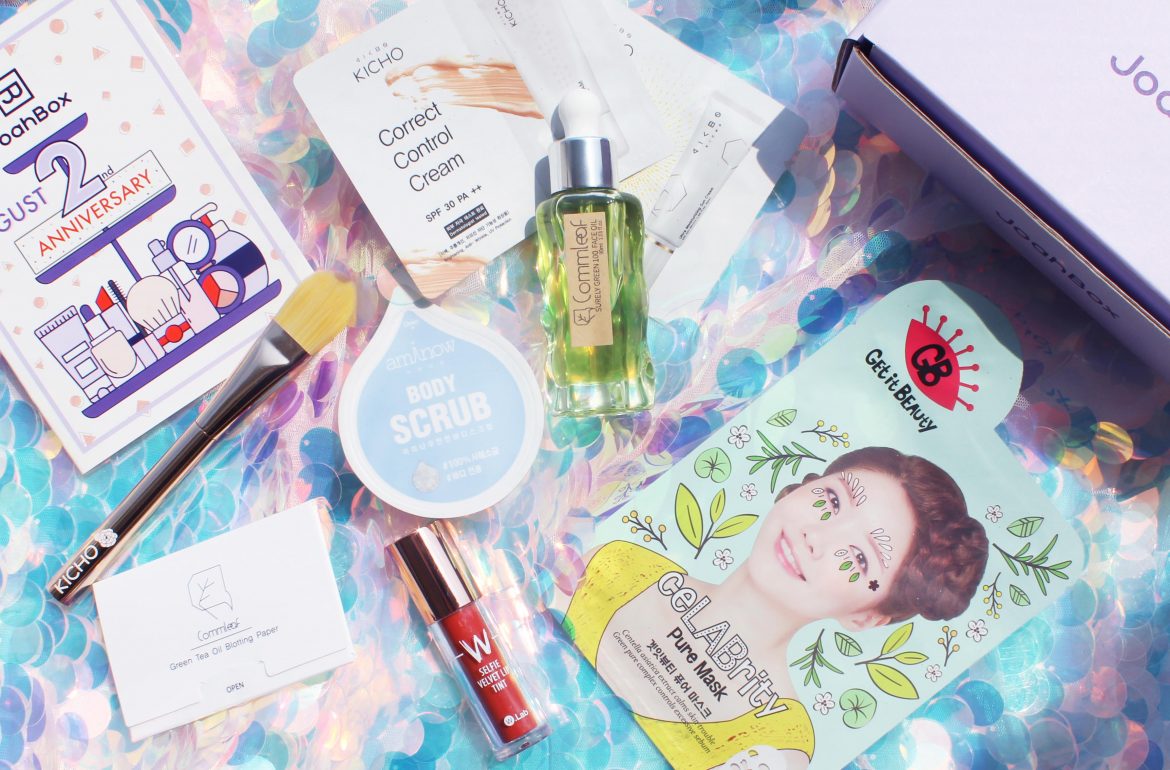 AUGUST 2019 JOAHBOX UNBOXING
-JoahBox 2nd Anniversary-
This August is JoahBox Birthday ! The JoahBox team curated a box full of nice and healthy cosmetics to create a nice birthday box. This month JoahBox did a full on makeover to celebrate and we'd love to get your feedback. But first, let's start together our August 2019 Joahbox Unboxing !!!
………..
COMMLEAF // SURELY GREEN 100 FACE OIL // 35$ :
In March, we sent you a sample of this vegan-friendly 100% natural face oil. It is formulated with 10 kinds of nature-originated oils such as Sunflower, Jojoba, Meadowfoam, Sweet Almond, Avocado, Olive, Camellia, and Bitter Orange. Its soft texture gives deep hydration. The natural fragrance is luxurious and special. This product is free of harmful ingredients with no synthetic pigment and fragrance, and it is tested to be sensitive skin friendly.
HOW TO USE: Use this oil whenever your skin lacks hydration, or when your skin is sensitized and feels uneven. It will help you moist your skin and your makeup will look more silky and smooth. Just apply one to three drops with a brush or by rubbing it in your hands to warm it to body temperature and gently press with both palms for absorption. 
JOAHTIPS: Use it on the tip of your hair to cure dryness.
W.LAB // SELFIE VELVET LIP-TINT // 15$ :
This lip tint infused with shea, mango seed, & avocado butter but also camellia, marigold & cherry blossom extract will nourish your lips and give hydrating glow. You can apply it fully on the lips or as a gradient for the "Korean" style. 
COLORS: #01 RED BOOM – #02 MILD ON – #03 SOFT HOLIC – #04 MOOD LOOK (You will only receive one of these colors.)
KICHO // PACK BRUSH // 18$ :
This gold synthetic brush is perfect to apply oil, mask pack or foundation. This silky-soft brush is also light and easy to clean.
COMMLEAF // GREEN TEA OIL BLOTTING PAPER // 4$ :

Stay matte all day with the green tea oil blotting paper. It is composed of real green tea extract to perfectly remove oil on your face. 
HOW TO USE: Just keep it in your bag and whenever it's needed, tap it gently on your face so the paper can absorb the oil and/or sweat.
AMINOW // BODY SCRUB // 2,5$ :

This body scrub is composed of 100% salt from sands of Mediterranean Sea deserts and amino acid oil mixed together. There are more than 30 types of minerals included which contains 10 times more Calcium, Magnesium, and Potassium compared to general salt. Also, it's perfect to use during summer and "travel" friendly.
HOW TO USE: Before using it, mix the product with your finger to blend salt and amino oil together. Massage your skin drawing circles to remove dead skin.
GET IT BEAUTY // CELABRITY AQUA MASK // 4$ :
This cellulose mask pack is smooth and does not irritate your skin. It is composed of triple hyaluronic acid for intensive moisture and multi seaweed complex to reinforce vitality. 
HOW TO USE: You can use it before putting on makeup, or before going to sleep when your face needs moisture. Apply for 10-20 minutes after cleansing your face. Massage your face to absorb the remaining essence.
KICHO // CORRECT CONTROL CREAM & ULTRA MOISTURIZING SUNSCREEN SAMPLES :

In this August JoahBox, we also included two samples from Kicho brands for you to try! Please do not hesitate to give us your feedback to let us know if you want the full version of them.
…………….
Please share your toughts on our August 2019 JoahBox Unboxing. We really enjoy to know your favorite products in each box. Also if there is any products you would like to see in your next JoahBox, do not hesitate to share and if you want to order your September Korean Beauty Box it's here.
---