September JoahBox Unboxing
Although we have to say goodbye to summer, we want to do it in the best way, with an irresistible proposal for September. Good K-brands to keep your skin healthy for long-term and, especially, to enjoy taking good care of yourself. September JoahBox is here just for that.
Let's Start your September's JoahBox Unboxing
Moisturizing Sunscreen by Thank You Farmer $23
After a hot summer, our skin needs an extra of moisturizing. Try this hydrating sun cream with smoothness and high sunscreen capacity without stickiness and whiteness. It is perfect for all skin types, but the dry skin will need it so much because of its deep hydrating. Moreover, you will love its fragrance: apricot. Thank You Farmer only works with natural elements like omega oil or bamboo extracts.
How to use it: Apply before going out in the sun, every day, and before makeup.
Joah Tip: Use it especially when your skin is dry.
Snail Serum (wrinkle serum) by Haute Cuisine $29
This serum will bring the nutrition that your skin needs thanks to its 15 active ingredients such as propolis or snail slime extract. It keeps the skin deeply hydrated and healthy, reducing the appearance of wrinkles.
How to use it: You need a small amount if the serum with the dropper in all those areas you need. Then, massage gently until it is absorbed. You can use it twice per day.
Joah Tip: Don't apply to irritated skin and avoid contact with eyes.
Spot Perfume Brush by Glowhill $15
This perfume format will surprise you. It includes a comfortable brush that spread of sweet fragrance, perfect for every day. You can take it anywhere because it is not heavy and it is practical.
How to use it: Apply on your wrists swiping the brush.
Joah Tip: Make the fragrance last longer, rubbing vaseline on your pulse points before applying the Spot Perfume Brush.
Snail Sheet Mask by Haute Cuisine $2
Always use a sheet mask to prevent aging, and JoahBox wants to help you to try all the best quality sheet masks. The Snail Sheet Mask by Haute Cuisine brand contains snail secretion filtrate to hydrate the dry skin. Also, it contains yeast extract to keep skin tone vital and brighter.
How to use it: Relax and have a beautiful moment utilizing the snail sheet mask. Apply in your face and leave it for 20 min. You will notice the difference in few minutes¡
Joah Tip: Put it in the fridge during some minutes for a cooling effect and to get quick results.
Makeup Facial Mask by Glowhill $3
If you want a perfect makeup, you need a glowing and flawless skin. Now, it is possible to get it with this makeup facial mask that Glowhill presents. This mask contains glitter particles which stay on your face for a long time. Get a glow and fresh face with this primer mask and let your skin be the perfect canvas to put makeup.
How to use it: Use it before makeup to get the glowing skin you want.
Joah Tip: You don't need to remove the glitter particles. Leave them in your skin and apply your make up as usual.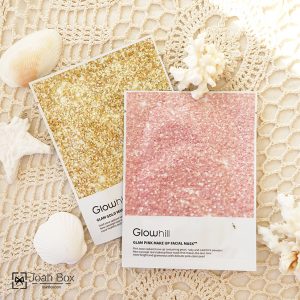 Have you Enjoyed the September JoahBox Unboxing?
Let us know in the comments below your thoughts and Korean Skincare and Korean Makeup products you wish to see in your next JoahBox
You can order your next JoahBox here 
---