Best K-Beauty Remedies For Dark Circles
One of the first things we check after waking up is probably whether we have dark circles or not. Dark circles can appear for many reasons and are sometimes hard to get rid of. Thankfully, the Korean Beauty market has many options you can use to treat them. This week we bring for you some of our favorite K-Beauty remedies for dark circles, that we're sure you'll love. 
………..
Eye Patches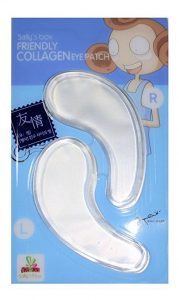 Eye patches work wonders on your under-eye area. They are cooling, soothing and hydrating. So whether your eyes are puffy and with dark circles after a night out, using an eye patch will help your eyes get a fresher look. Sally's Box Friendly Collagen Eye Patch is our favorite option. Not only their packaging is pretty, but also thanks to its collagen formula, it soothes, cools and replenishes the sensitive under-eye area. Try to use this patch on a regular basis, in order to allow collagen to work on your skin.
Natural at-home remedies
Dark circles can be caused by sleep deprivation, which can make your skin look dull and pale, allowing dark tissues and blood vessels beneath your skin to show. So although it might be an obvious remedy, getting enough sleep will help your dark circles to disappear. If this doesn't work out, we have other remedies for you.
You can apply cold tea bags under your eyes. Some of the best options are black or green tea because they contain caffeine and antioxidants that can help stimulate blood circulation, shrink blood vessels and reduce liquid retention in that sensitive area. You only have to let the tea bags soal in hot water for 5 minutes, put them in the fridge for 15 to 20 minutes or until they are cold and then put them under your eyes. This will improve the appearance of your dark circles and it will make them less obvious.
Another option is applying cold compresses under your eyes. Just put some ice cubes in a clean washcloth and apply it to your eyes. This will help you reduce swelling, puffiness and shrink dilated blood vessels, making dark circles disappear and giving you also a fresher look.
Eye Creams

Our next K-beauty remedy for dark circles is eye creams. The skin under our eyes is more sensitive, prone to dryness and quicker to show signs of age and fatigue. To avoid this, the use of eye creams is recommended. Eye creams help reduce or even erase the signs of aging like fine lines, wrinkles and dark circles. Back in November, we included Premium Snail Eye Cream by Haute Cuisine. We love this eye cream because it contains ingredients such as camellia, snail slime extract, hyaluronic acid, and aloe vera. These ingredients tighten and revitalize the skin, reducing the dark spots around the eye.
………
As you can see getting rid of those annoying dark circles is not impossible. You just have to make sure to try to get enough sleep and also treat your eyes with products that will help hydrate and smooth the lines around your eyes. Do you have any other secret remedy for dark circles? Share your secrets with us!
You can follow us on Facebook and Instagram to keep updated with our latest curations. And if you haven't already, don't forget to join or JoahBox family by subscribing to JoahBox! 
---