Transition From Winter To Summer Korean Skincare Routine
Now that it's the middle of spring and the weather has been changing and getting warmer. It's usually the time you can start wearing less layers of clothing and maybe even get your summer clothes shopping done. But, aside from changing up your style, did you know you should also start changing up your skincare routine? Keep on reading for some of our top tips to transition from winter to summer k-beauty routine.
……………………………….
START WITH CLEANING TIME

Are you planning on doing some spring cleaning? Do the same with your cosmetics! Make sure to check the expiration date and throw away the ones that have already expired. For more information, you can check out our article k-beauty guide to expiration dates. You can also give a thorough clean to all your makeup brushes, sponges, etc.
.
KEEP DOUBLE CLEANSING
It's important to still remove impurities from the skin with an oil cleanser or cleansing balm. After this double cleansing, you do any other skincare steps.
.
CHANGE MOISTURIZER
Opt for a lighter moisturizer now that the weather will become more humid. If you have oily skin, you should definetely change it.
.
USE SPRAY ESSENCE
Think of using spray essence or serum that you can take on the go to refresh yourself (and it's even best if you keep it in the fridge). In the April JoahBox, you received the D'Alba Piedmont, White Truffle First Spray Serum. This kind of product is perfect to refresh your skin during the hot summer day.
.
SUNSCREEN IS MANDATORY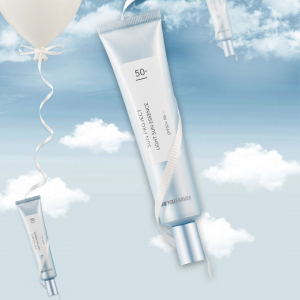 If before you forgot some days or simply didn't put on sunscreen because it was included in your foundation/BB Cream, during late spring, summer and early fall seasons, specially during summer, you should put sunscreen on every single day.
Pro-Tip: If you sweat a lot, re-apply throughout the day.
.
.
……………………….
In your April JoahBox, you received a Serum Spray that's perfect to use during summer and gives you a nice glow. Would you like to see more products adapted to your transition from winter to summer k-beauty routine in our next JoahBox?
---