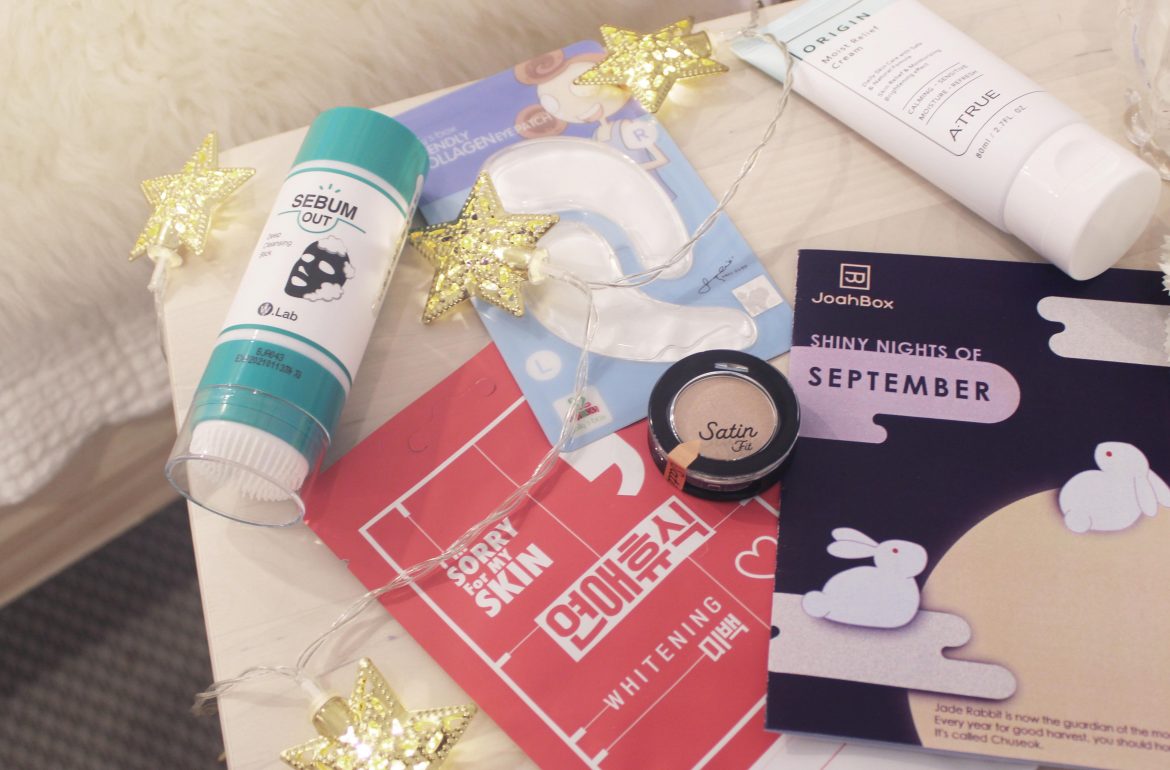 September 2019 JoahBox Unboxing
– Shiny Nights of September –
Jade Rabbit is now the guardian of the moon. Every year for good harvest, you should honor him. It's called Chuseok.
During September, South Korea is celebrating Chuseok ! Learn more about this Korean Holiday by reading our previous blog article. For this month JoahBox, we try to select a bunch of products to add next to your night stand to enjoy some wonderful shiny nights. So let's talk all a look to our September 2019 Joahbox Unboxing !!!
ATRUE // ORIGIN MOIST RELIEF CREAM // 33$ :
This moisturizing cream is composed with cica-recovery complex extracted from asiatic pennywort, Eosungcho and chia seed, but also with glycerine, squalene, olive oil and hyaluronic acid. Those components make this cream good at calming and moisturizing. It's hypoallergenic and free of harmful components such as paraben, phenoxyethanol, artificial flavoring, etc. We recommend this cream especially to those who have dry skin, want light texture but moisturizing cream, or have sensitive skin.
HOW TO USE: We recommend to apply the origin moist relief cream as the last step of your night skincare routine. 
ETUDE HOUSE // SATIN FIT EYE-SHADOW // 5,5$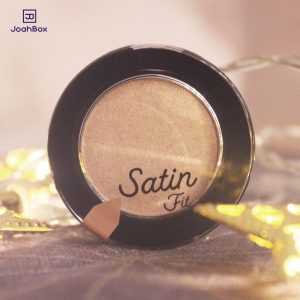 This Satin fit eye shadow is formulated to add shimmer and glow to give a satin look to your eyes. The formulation gives long-lasting effect due to the combination of lightweight oil and unique bending agents. The color included in this month JoahBox is "BE102 Creamy Ale".
HOW TO USE: You can apply an appropriate amount on the eyelids in a blending motion with a brush or your finger. Korean eyeshadow is often less pigmented than western ones, so please do not hesitate to layer on to express deeper makeup looks. 
W.LAB // 18$ :
MOIST FIT STROBING CREAM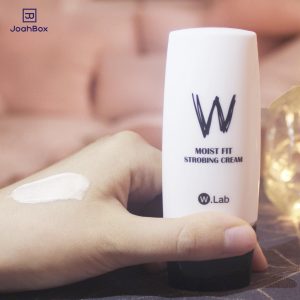 This makeup base will prime and brighten your complexion in a few seconds. It's a little peachy tinted and infused pearl extract to give you a radiant and shimmery look. This cream is composed of macadamia seed oil to fortify your moisture barrier and nourish your skin.
HOW TO USE: You can use it as a makeup base after your usual morning skincare routine. If you want you can also apply a small amount on your nose, cheekbones and up to your temples to give a natural yet stunning finish to your makeup look. Lastly, you can mix it with your BB Cream or foundation (ratio 1:3).
SEBUM OUT DEEP CLEANSING STICK 
This "easy to use" Sebum out stick removes blackheads, whiteheads, and other surface debris from the skin. This dual-stick is composed of charcoal powder and peppermint leaf extract cultivated in Korea and the brush is in silicone. 
HOW TO USE: After cleansing your face, wet your nose (and another area you want to cleanse) and then apply the black part of the stick. Rub it on your nose (or face) with the opposite part of the stick doing circle motion for at least 1 minute. Rinse your face thoroughly with water. Then cleanse your stick, you can easily remove the white part by pinching it and put it back in place after. 
 ! ALERT ! This month you will receive either the Sebum Out Deep Cleansing Stick or the Moist Fit Strobbing Cream. 
SALLY'S BOX // FRIENDLY COLLAGEN EYE PATCH // 3$ :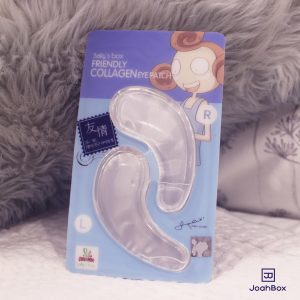 This hydrogel eyepatch delivers rich moisture and nutrition to dry, sensitive, aging eye contours. The collagen formula helps tighten sagging skin. It will also help soothe, cool and replenish the sensitive eye contour. 
HOW TO USE: First, remove the film and apply the patches under your eyes (the rounder part should be close to your nose) and let them here for 20-30 minutes. Then, remove the patch and gently massage your skin so all the nutrients are fully absorbed.
I'M SORRY FOR MY SKIN // WHITENING COMMA MASK // 2$ :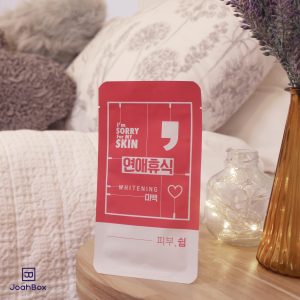 This whitening functional mask makes your skin clear and smooth. It contains glutathione and niacinamide so your skin gets brighter and glossier. It is composed of only ten essential ingredients to minimize the one that can cause skin irritation.
HOW TO USE: After cleansing, apply it evenly over your face for 10-20 minutes. Gently pat the remaining essence until fully absorbed.
…………….
We would love to get your feedback on our September 2019 JoahBox Unboxing. The best is when you tell us which one of all the products is your favorite of the month. If you want to make any suggestion for future products you'd want to see in the box, please feel free to share. Last but not least, if you want to order your October Korean Beauty Box it's here.
---