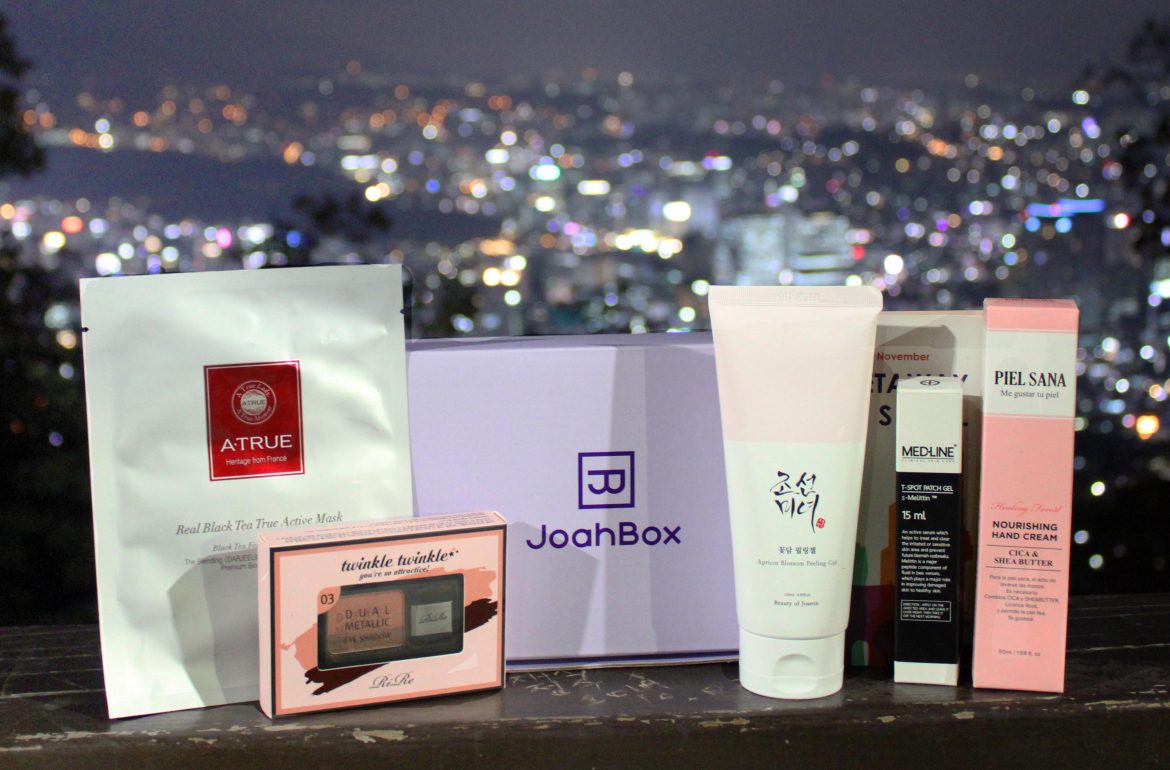 November 2019 JoahBox Unboxing
– Getaway in Seoul – 
With this November JoahBox, we decided to make you discover a little bit of Seoul. Have you ever travelled Seoul ? Would you like to see some blog article about what are the must see of Seoul ? But first, let's start with November 2019 JoahBox Unboxing !
…………
BEAUTY OF JOSEON // APRICOT BLOSSOM PEELING GEL
Retail Price : 23$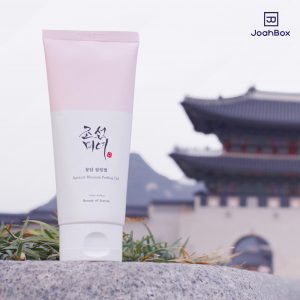 "Beauty of Joseon" reinterprets beauty that never changes despite the time by using old recipes from the Joseon Dynasty. This Peeling Gel is using the enzymes and mild polymers from the apricot to gently remove dead skin cells and dirt from your skin. The plum and apple extracts will provide moisture and nourishment after cleansing to get silky skin. It's hypoallergenic and can be used on sensitive skin. 
HOW TO USE: After you wash and dry your face, take a proper amount of product and spread it on your face. Avoid eyes and mouth area. Then, massage your face circularly for 1 to 2 minutes and rinse off with warm water. 
MED-LINE // T-SPOT PATCH GEL
Retail Price : 14$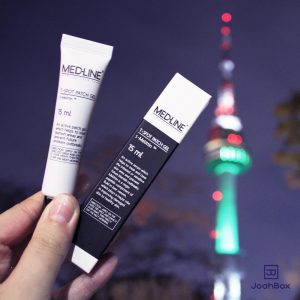 This T-Spot Patch Gel is formulated only with EWG green-rated ingredients like S-Melittin, Dryopteris Crassirhizoma Extract, Dimethyl Sulfone. The S-Melittin is a major peptide component of fluid in bee venom that plays a role in improving damaged skin. It will also have an anti-wrinkle and anti-aging effect on your skin but mainly helps to treat skin troubles (such as acne, papules and rash) and clarify the traces on the skin. It will also promote the reproduction of damaged skin cells caused by scratch, infection, or ambustion.
HOW TO USE: Before going to bed, apply a proper amount on top of trouble spot and let it dry and take it off in the morning. 
JOAHTIPS: This gel can also be applied on top of mosquito bite to soothe the pain
GUSTAR // PIEL SANA NOURISHING HAND CREAM
Retail Price : 12$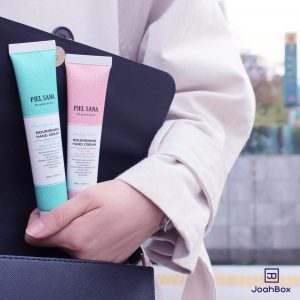 Did you know that there is no sebum on your hand? That is what makes your hand dry and age easily if you are not taking care of your hand with moisturizer. The "Piel Sana Hand Cream" nourishes and moisturizes your hands even after you wash your hands. Also, it's not sticky at all and keeps your hand health. It's composed with mainly Centella Asiatic, Shea Butter & Spanish Licorice Root Extract.
VARIATION: You will either receive Healing Forest (composed with Lemon, Orange, Cassis, Basil, Green note, Orchid, Lily, Rose, Ylang, etc.) OR Fine Spring Day (composed with Green tea, Lemon, Ginger, Peach, Muguet, Jasmine, Freesia, etc.)
JOAHTIPS: After applying on your hands if there is some leftover try to use the rest on your neck (it needs as much hydration as your hands).
RIRE // DUAL METALLIC EYESHADOW
Retail Price : 17$
For all of those who want a quick and easy gradation eye makeup this Dual Metallic Eyeshadow has been specially created for it. The secret of this pack is the embed brush use it to apply easily the gradation eye makeup. Depending on your base match develops either more or less intense look. With that metallic eyeshadow you will shine brightly and get a seductive look. 
HOW TO USE: For Smokey look, position your brush to use 7(dark):3(bright) colors. For daily makeup, 5:5 & for soft natural makeup 3:7.
VARIATION: Coral + Brown OR Pink + Brown
A.TRUE // REAL BLACK TEA TRUE ACTIVE MASK
Retail Price : 5.5$
The face mask of this month is from our favorite cruelty-free, vegan and EWG approved brand A.True. It's indeed a bio-cellulose mask that adheres easily to the skin. It will infuse pores and have anti-aging benefits thanks to the A.True Real Black Tea True Active Essence. This sheet mask with double fermented black tea will help you revitalize and lessen the fine lines of your skin. Also your face will have a radiant glow and feel healthy.
HOW TO USE: After cleansing and toner, apply it for 20-30 minutes on your face after you gently peel off protective netting on both sides of it. As usual pat excess essence into the skin to help absorption.
…………
JoahBox team is always really excited to get your feedback on our monthly curation. Please do not hesitate to share your opinion on our November 2019 JoahBox Unboxing. We would also be pleased to hear your suggestions for future product you will love to see in the future JoahBox. And if you are still not subscribed to our korean subscription beauty box, we recommend you to get your subscription quickly by following this link.
LIST OF INGREDIENTS FOR OUR OCTOBER JOAHBOX
BEAUTY OF JOSEON // APRICOT BLOSSOM PEELING GEL
Water, Glycerin, Steartrimonium Methosulfate, Alcohol Denat, Carbomer, Cellulose, Butylene Glycol, Prunus Mume Flower Extract, Prunus Mume Fruit Extract, Pyrus Malus (apple) Fruit Extract, Prunus Armeniaca (apricot) Fruit Extract, Prunus Salicina Fruit Extract, Phenoxyethanol, Fragrance
MED-LINE // T-SPOT PATCH GEL
Dryopteris Crassirhizoma Extract, Dimethyl Sulfone, Scutellaria Baicalensis Callus Culture, Agastache Rugosa Callus Culture, Aloe Barbadensis Leaf Extract, Centella Asiatica Extract, Polygonum Cuspidatum Root Extract, Scutellaria Baicalensis Root Extract, Camellia Sinensis Leaf Extract, Glycyrrhiza Glabra (Licorice) Root Extract, Melaleuca Alternifolia (Tea Tree) Leaf Oil
GUSTAR // PIEL SANA NOURISHING HAND CREAM
Water,Glycerin, Caprylic/Capric Triglyceride, Cyclopentasiloxane, Butyrospermum Parkii (Shea) Butter, Cetyl Ethylhexanoate, Polysorbate 60, Cyclohexasiloxane, Glyceryl Stearate, PEG-100 Stearate, Dimenthicone, Cetearyl Alcohol, Centella Asiatica Extract, Glycyrrhiza Glabra (Licorice) Root Extract, Psidium Guajava LEaf Extract, Rosa Hybrid Flower Extract, Camellia Sinensis Leaf Extract, Prunus Serotina (Wild Cherry) Fruit Extract, Prunus Serrulata Flower Extract, Butylene Glycol, 1,2-Hexanediol, Tromethamine, Carmober, Hydroxyacetaphenone, Stearic Acid, Disodium EDTA, Ethylhexylglycerin, Fragrance
RIRE // DUAL METALLIC EYESHADOW
01 Coral & Brown:
Talc, Synthetic Fluorofluorite, Diisostearyl Malate, Nylon-12. Isononyl Isononanoate, Titanium Dioxide, Red Iron Oxide, Dimethicone, Caprylic / Capric Triglyceride, Dipenta Hexamethylene Diisocyanate, Erythritol Hexahydroxystearate / Hexastearate / Hexa Rognate, Magnesium Stearate, Magnesium Myristate, Methyl Methacrylate Crosspolymer, Dimethicone / Vinyl Dimethicone Crosspolymer, Caprylic / Capric Triglyceride , Western Rose Flower Extract, Camellia Flower Extract, Peony Extract, Karen Dulcimer Extract, Chamomile Flower Extract, Lavender Flower Extract, Madonna Lily Flower Extract, Aloe Vera Leaf Extract, Propolis Extract, Phenoxyethanol, Microcrystalline Wax, Yellow Iron Oxide , Clofenecine, Tin Oxide, Black Iron Oxide, Nylon-12, Isononyl Isononanoate, Dimethicone, Caprylic / Capric Triglyceride, Carboxymethylcellulose, Polyvinylpyrrolidone, Polyvinylpyrrolidone, But Are Not Limited To, Titanium Dioxide, Titanium Dioxide, Dipentaerythritol Hexahydroxystearate / Hexa Stearate / Hexa Rognate, Magnesium Stearate, Magnesium Myristate, Methyl Methacrylate Crosspolymer, Dimethicone / Vinyl Dimethicone Crosspolymer, Lavender Flower Extract, Madonna Lily Flower Extract, Aloe Vera Leaf Extract, Propolis Extract, Phenoxyethanol, Lactic Acid Extract, Ricin / Capric Triglyceride, Western Rose Flower Extract, Camelliaceae Extract, Peony Extract, Microcrystalline Wax, Clofenesin, Vichite, Tin Oxide, BHT
03 Pink & Brown:
Talc, Synthetic Fluorofluorite, Titanium Dioxide, Diisostearyl Maleate, Nylon-12 Isononyl Isononanoate, Dimethicone, Caprylic / Capric Triglyceride, Dipentaerythritol Hexa Hydroxy Stearate / Hexa Stearate / Hexa Rosinate, Magnesium Stearate, Magnesium Myristate, Methyl Methacrylate Cross Polymer, Red Iron Oxide, Dimethicone / Vinyl Dimethicone Crosspolymer, Carmine, Caprylic / Lily Of The Valley, Lily Of The Valley, Lily Of The Valley, Lily Of The Valley, Lily Of The Valley, Lily Of The Valley, Propolis Extract, Phenoxyethanol, Microcrystalline Wax, Clofenesin, Tin Oxide, Yellow Iron Oxide, Biotite Dark Talc, Synthetic Fluorofluorescent, Diisostearyl Malate, Red Iron Oxide, Mica, Nylon-12. Isophthalate, Hexanediol, Hexanediol, Isononyl Isononanoate, Titanium Dioxide, Dimethicone, Caprylic / Capric Triglyceride, Dipentaerythritol Hexahydroxystearate / Hexa Stearate / Hexa Rognate, Black Iron Oxide, Magnesium Stearate, Magnesium Myristate, Methylmethacrylate Crosspolymer, Dimethicone / Vinyl Dimethicone Crosspolymer, Caprylic / Capric Triglyceride, Western Rose Flower Extract, Camelliaceae Extract, Peony Extract, Karen Dulcite Extract, Chamomile Flower Extract , Lavender Foliage, Madonna Lily Flower Extract, Aloe Vera Leaf Extract, Propolis Extract, Phenoxyethanol, Microcrystalline Wax, Clophenethine, Tin Oxide, BHT
A.TRUE // REAL BLACK TEA TRUE ACTIVE MASK
Saccharomyces/Xylinum/Black Tea Ferment, Butylene Glycol, Glycerin, 1,2-Hexanediol, Water, Dipropylene Glycol, Niacinamide, Cetyl Ethylhexanoate, Glycereth-26, Caprylic/Capric Triglyceride, Butyrospermum Parkii (Shea) Butter, Hydrogenated Lecithin, Neopentyl Glycol Dicaprate, Ceteth-20, Steareth-20, Glyceryl Stearate, Cetearyl Alcohol, Ethylhexylglycerin, Tocopheryl Acetate, Panthenol, Xanthan Gum, PEG-60 Hydrogenated Castor Oil, Phenyl Trimethicone, Sodium Hyaluronate, Carbomer, Honey Extract, Camellia Sinensis Leaf Extract, Panax Ginseng Root Extract, Laminaria Japonica Extract, Punica Granatum Fruit Extract, Glycyrrhiza Glabra (Licorice) Root Extract, Artemisia Vulgaris Extract, Yeast Extract, Saccharide Isomerate, Citric Acid, Sodium Citrate, Adenosine, Arginine, Hydroxyethylcellulose, Disodium EDTA, Fragrance, Dipotassium Glycyrrhizate, Portulaca Oleracea Extract, Propanediol, Persea Gratissima (Avocado) Fruit Extract, Maltodextrin
---