January 2020 JoahBox Unboxing
– Cheers to New Year –
With this January JoahBox, we wanted to start of the year on the best side. That's why you could find 7 products inside ! Our lovely K-Beauty besties received almost everything to create a new skincare routine  in 2020. Read trough this blog article to find out all the cosmetics of this January 2019 JoahBox Unboxing.
………………………..
CREMORLAB // THALASSO FOAM // 28$ :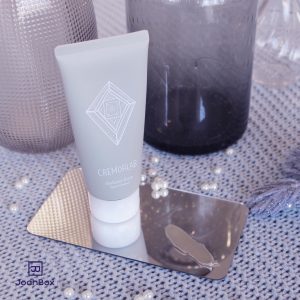 This cleansing foam has a rich creamy formulation capable of creating fine and soft bubbles to erase all traces of dirt, sebum, and even residual make-up. The Thalasso Foam from Cremorlab will let your skin refreshingly cleansed without the tight feeling caused by dehydration from over-cleansing. Natural sea salt capsules gently exfoliates dead skin cells unveiling smoother  and softer complexion.
HOW TO USE: After removing your makeup with an oily cleanser, use this thalasso foam to finish your cleansing. 
CELEBEAU // SASSY GLAM EYE GLITTER // 14$ :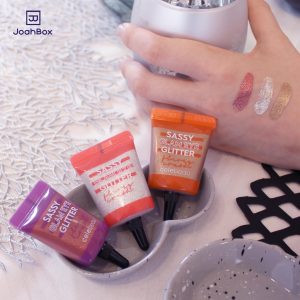 The "Sassy Glam Eye Glitter" from Celebeau got a smooth texture, and dynamic blend with its various size glitter. It will give you the power to create strong and bold makeup. As it is water based, you can apply it without any effort, tightness, creasing or fallout. Also it will last all day long. Complete an eye-catching look in seconds with that shadow/glitter combination.
VARIATION: 01.Aurora Moon // 02.Flash Bronze // 04.Twinkle Berry
HOW TO USE: You can either use a brush or your finger to apply the eyeshadow either on your lid or to highlight your under eye as "korean style". 
BODYHOLIC // CLEAN HAND CREAM // 5.5$ :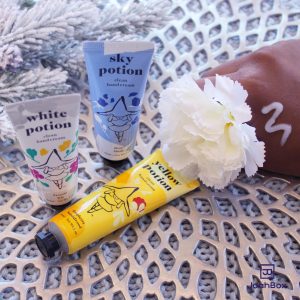 In this JoahBox, we decided to insert a portable hand cream so you can carry it everywhere with you. Due to adenosine and niacinamide, this moisturizing hand cream has an anti-wrinkle effect. Also, there is no sticky feeling to it. Enriched with oregano leaf extract, this antibacterial cream will remove the harmful substances to protect and soothe your hands. 
VARIATION: Yellow Potion – Raspberries // White Potion – Freesia Iris // Sky Potion – Rose Musk
IBIZA SPA // EXTREME MOISTURIZER SERUM // 10$ :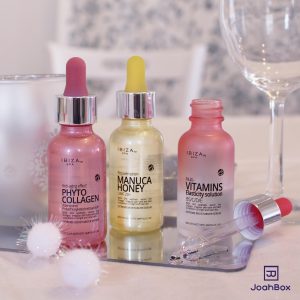 – Rejuvenation Manuka Honey Ampoule Serum: Manuka Honey Serum will help your skin regenerate and cover traces of the years. This ampoule type essence will help prevent aging with it's complex aging care, giving you clear skin and elasticity.
– Triple Anti-Aging Effect Phyto Collagen Ampoule Serum: The Phyto Collagen Serum will manage wrinkles. The ampoule will give you firming effect and elasticity to your skin 
– Triple Multivitamins Elasticity Solution Ampoule Serum: The Vitamin Serum will help brighten the skin and also cover traces of the years giving your skin more elasticity.
HOW TO USE: Use the pipette to drop a proper amount of the ampoule on your fingers. Apply in a tapping motion until the skin absorbs it. 
HME // POMPOM BALL // 5$ (each) :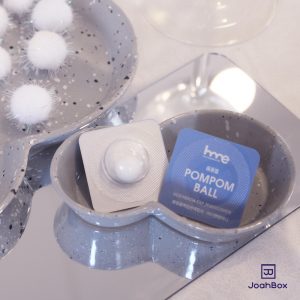 This Freeze-Dried acid ball is mixed with 20mg of collagen. The ball contains exactly 660,000 ppm of Hyaluronic acid, and 260,000 ppm collagen. Whenever your skin is dry, by using this ball you will be able to charge moisture instantly.
HOW TO USE: Inside of your hands or in a small bowl, mix one ball with either a sleeping pack or an ampoule until it dissolves in. Then, apply it normally on your skin.
ARITAUM // MUGWORT SLEEPING PACK // 1.5$ :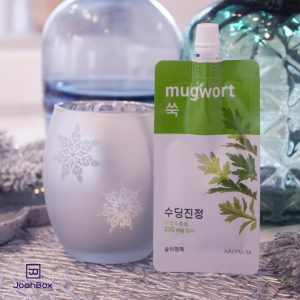 This Sleeping Pack provides fresh and radiant complexion as you wake up! Aritaum is carefully curating the best k-beauty brands to insert in their shops. When developing their own products, they know exactly what the best components to use are.
HOW TO USE: Apply an even layer on your face just before going to bed. Leave it overnight and rinse it in the morning.
GANGBLY // JEJU VITA AQUA MASK // 2$ :
The Vitamin C included in this sheet mask provides many benefits like evening out your skin tone, shielding your skin from impacts of pollution, improving hydration, and making your skin look younger longer. 
HOW TO USE: After cleansing & toner, apply it for 10-20 minutes. After removing, gently pat the remaining essence.
………………………..
2020 is just starting and JoahBox will try to satisfy all of you this year too. Tell us what you think about this January 2020 JoahBox Unboxing in the comment section below. Also if you like January JoahBox you will probably really love February box so go subscribe to JoahBox.
………………………..
LIST OF INGREDIENTS FOR OUR JANUARY JOAHBOX
CREMORLAB // THALASSO FOAM
Ingredients: Glycerin, Myristic Acid, Water, Methylpropanediol, Potassium Cocoyl Glycinate, Stearic Acid, Potassium Hydroxide,  Cocamidopropyl Betaine, Lauric Acid, Sodium Methyl Cocoyl Taurate, PEG-40 Stearate, Glyceryl Stearate, PEG-100 Stearate, Himanthalia Elongata (Brown Algae) Extract, Cocoa Seed Extract, Laminaria Digitata Extract, Macrocystis Pyrifera (Kelp) Extract, Rosmarinus Officinalis (Rosemary) Leaf Oil, Polyquaternium–39, Cornstarch, Tocopheryl Acetate, Dextrin, Hot Spring Water, Illite, Trisodium EDTA, PEG-14M, Butylene Glycol, Kaolin, Montmorillonite, Titanium Dioxide, Calcite, Hydroxypropyl Methylcellulose, Sea Salt, Fragrance, 1-2 Hexanediol, Sodium Benzoate, Yellow no.4, Green no.1
CELEBEAU // SASSY GLAM EYE GLITTER
Ingredients:
Aurora Moon: Water, Aluminum Powder (CI 77000), Calcium Titanium Borosilicate, Polybutylene Terephthalate, Glass, Acrylates Copolymer, Ethylene/VA Copolymer, Propylene Glycol, Titanium Dioxide (CI 77891), 1,2-Hexanediol, Phenoxyethanol, Carbomer, Hydroxyethyl Acrylate/Sodium Acryloyldimethyl Taurate Copolymer, Squalane, Aminomethyl Propanol, Ethylhexylglycerin, Tin Oxide (CI 77861), Disodium EDTA, Polysorbate 60, Sorbitan Isostearate, Polyethylene Terephthalate, Amber Powder, Coral Powder, Diamond powder, Pearl Powder, Sapphire Powder
Flash Bronze: Water, Calcium Aluminum Borosilicate, Mica (CI 77019), Iron Oxides (CI 77491), Calcium Titanium Borosilicate, Propylene Glycol, Titanium Dioxide (CI 77891), 1,2-Hexanediol, Iron Oxides (CI 77499), Phenoxyethanol, Carbomer, Hydroxyethyl Acrylate/Sodium Acryloyldimethyl Taurate Copolymer, Tin Oxide (CI 77861), Squalane, Aminomethyl Propanol, Ethylhexylglycerin, Disodium EDTA, Polysorbate 60, Sorbitan Isostearate, Amber Powder, Coral Powder, Diamond powder, Pearl Powder, Sapphire Powder 
Twinkle Berry: Water, Mica (CI 77019), Iron Oxides (CI 77491), Calcium Aluminum Borosilicate, Polybutylene Terephthalate, Propylene Glycol, Acrylates Copolymer, Ethylene/VA Copolymer, 1,2-Hexanediol, Iron Oxides (CI 77499), Titanium Dioxide (CI 77891), Phenoxyethanol, Carbomer, Hydroxyethyl Acrylate/Sodium Acryloyldimethyl Taurate Copolymer, Squalane, Aminomethyl Propanol, Ethylhexylglycerin, Disodium EDTA, Tin Oxide (CI 77861), Polysorbate 60, Sorbitan Isostearate, Amber Powder, Coral Powder, Diamond powder, Pearl Powder, Sapphire Powder
BODYHOLIC // CLEAN HAND CREAM
Ingredients: Water, Glycerin, Fragrance, 1-2 Hexanediol, Disodium EDTA, Cetearyl Alcohol, Niacinamide, Cetyl Ethylhexanoate, Cetearyl Olivate, Dimethicone, Sorbitan Olivate, Melaleuca Alternifolia (Tea Tree) Extract, Shea Butter, Aloe Barbadensis Leaf Extract, Lactobacillus/Soybean Ferment Extract, Salix Alba (Willow) Bark Extract , Cinnamomum Cassia Bark Extract, Origanum Vulgare Leaf Extract, Chamaecyparis Obtusa Leaf Extract , Scutellaria Baicalensis Root Extract, Portulaca Oleracea Extract, Adenosine, Stearic Acid, Butylene Glycol, Caprylyl Glycol, Illicium Verum (Anise ) Fruit Extract 
IBIZA SPA // EXTREME MOISTURIZER SERUM
Ingredients: Water, Ethanol, Glycerin, Carbomer, Disodium EDTA, Sodium Hyaluronate, Propylene Glycol, Hexanediol, Panthenol (B5), Tocopherol, Dipropylene Glycol,  Sorbitol, Betaine, Melaleuca Bracteata Leaf Extract, Rubus fruticosus fruit extract, Portulaca Oleracea Extract , Momordica Charantia Fruit Extract, Bambusa Vulgaris Leaf/Stem Extract, Myrciaria Dubia Fruit Extract, Lepidium Meyenii Root Extract, Euterpe Oleracea Fruit Extract, Green Tea Extract, Saururus Chinensis Extract, Taraxacum Officinale (Dandelion) Extract, Schisandra Chinensis Fruit Extract, Rhus Semialata Gall Extract, Tremella Fuciformis (Mushroom) Extract, Ascorbic Acid, Vitamin D, Polysorbate 80, Hydroxyethylcellulose, arginine, Allantoin, Fragrances
HME // POMPOM BALL
Ingredients: Sodium Hyaluronate (660,000PPM),  Hydrolyzed Collagen (260,000PPM), Algin, Ethylhexyl Olivate, Olive Oil PEG -7 Esters
ARITAUM // MUGWORT SLEEPING PACK
Ingredients: Mugwort components (20mg) included
GANGBLY // JEJU VITA AQUA MASK
Ingredients: Water, Propylene Glycol, Glycerin, Methylpropanediol, Phenoxyethanol, Carbomer, Polysorbate 20, Trehalose, Niacinamide, Triethanolamine, Hydroxyethylcellulose, Ethylhexylglycerin, Disodium EDTA, Fragrance, 1,2 Hexanediol, Dipropylene Glycol, Butylene Glycol, Sodium Hyaluronate, Citrus Unshiu Peel Extract (20ppm), Glyceryl Acrylate / Acrylic Acid Copolymer, PVM/MA Copolymer, Polysorbate 60, Disodium Phosphate,Citrus Junos Peel Extract, Rosmarinus Officinalis (Rosemary) Leaf Extract, Sodium Ascorbyl Phosphate, Sodium Phosphate
---