We don't know about you guys, but for the JoahBox Team in Seoul, it is getting cold in here: minus temperatures, snow, slippery floors, huge coats out and new Korean skincare routine. Winter is an especially difficult season for your skin. Therefore, it is recommended to kind of adapt our skincare routine according to our skin. We know that many of us didn't give a thought about changing its routine, but trust us few skincare changes will make big transformations! Here are the few winter modifications to implement to your Korean skincare routine for the perfect complexion.
Sunscreen always sunscreen
We always have the audacity to put away sunblock the minute summer is gone. However, even with cloudy sky, UVB rays are always there and trickier than summer. For example, snow almost doubles your exposition. Sure you can decrease your SPF protection compares to the one you used in the summertime (from 50 to 30 for example), but still. Keeping sunscreen as an essential part of your Korean skincare routine is kind of mandatory. Two recommended Korean beauty products: Laneige Sun Block Supreme and HERA's new Sun Mate Essence Gel. These two products won lots of awards for their quality and skin protection.

Be gentle with your cleaning routine
Winter is an epic battle for your skin. We need to help it beat the wintery elements. However, our regular cleaner is sometimes a little bit too troublesome and irritate our already defenseless skin. For a perfect Korean skincare routine, we need to switch to gentler and soother products. Our Joah Team recommends the O2 Cleaning Oil BlackHead Hanskin, first for its smell, second for its gentle action due to vegetal oils contained.
Moisturize more, you should
We never said that enough but moisturize is the key. Do you love your dry and patchy skin? Do you like this rough facial sensation? Joah Box doesn't either. So the one and the only solution exists the moisturizer cream, the more the merrier. It is recommended to apply the cream after cleansing and toning. Also, your skin according to its level of dryness might require several layers in order to let it nourish. The JoahBox Team recommends two exceptional products: the MIZON All In One Snail Repair Cream and Innisfree Green Tea Balancing Cream.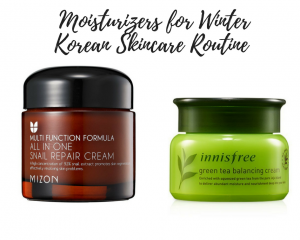 Several Face Masks per week, keep your skin unique
For a perfect cocooning wintery night, facemasks are the perfect relaxing tool. Providing extra moisturizing and deeper cleaning, there are should be already an important part of your Korean skincare routine. As your skin requires more moisturizing in wintertime, facemasks can be used several times a week. If you are almost out of masks, JoahBox gots you cover. Our Box: Sheet Masks Program allow you to choose your program and skin concern and we will send you masks based on your skin complexion.
Exfoliate is the key
During the other season, you exfoliate your skin to clean from dead skin leftover. However in winter, between the chilled temperatures and dry air, skin cells have the tendency to die faster. So, it is necessary to regularly exfoliate its skin. Moreover, a perfectly exfoliate skin will absorb moisturized cream faster. The team recommends you Cosrx Natural BHA Skin Returning A-Sol for oily skin and Skinfood Black Sugar Mask Wash Off for dry skin.
---