Romantic Valentine's Day Eye Makeup
Valentine's Day is here ! Whether you have a partner to spend your day with or not, it's always fun to try new makeup looks, so we decided to break down how to get a cute, romantic eye makeup look for Valentine's Day. For this Valentine's Day makeup look, you could try using the lipstick included in your January JoahBox, or the eye shadow from the November Box. Got everything ready? Let's get into the eye makeup tips.
…..
#1 Hydrate Your Eye Area
Perform your regular skincare routine for the day time. Before your makeup, remember to use an eye cream to hydrate your eye area. You need to pat it gently with your ring finger.
.
.
.
.
.
.
.
.
.
#2 Put on Base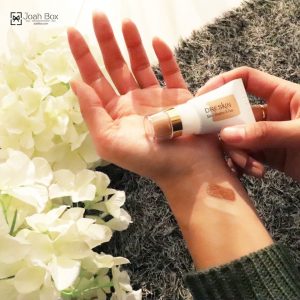 Put on a makeup base on your entire eyelid, such as an eye primer or concealer. Also cover up any under-eye circles with concealer.
.
.
.
.
.
.
.
#3 Makeup Look 
Use red and pink colored eye shadow, or even some peachy toned ones. Also, make sure that the darker colors are more towards the outer corner of the eyes. You could also add a pop of a different, mesmerizing color by using gold… You could even adding a little eye makeup jewel like how some celebrities do.
.
.
.
.
.
.
.
For more on this Valentine's day makeup look, make sure to check our Youtube Video . You could also discover some new korean makeup artist on youtube. 
---