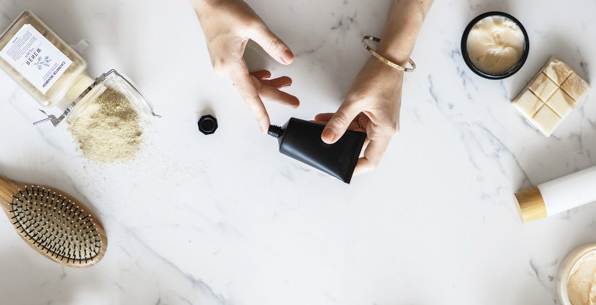 K-beauty : Physical VS Chemical Exfoliation
There are two main types of exfoliants: physical exfoliants and chemical exfoliants. Physical exfoliants, quite literally, physically remove dead cells. Chemical exfoliants go a little deeper by correcting the skin's production of skin cells, or removing dead cells by "unsticking the glue that holds them together". Both of these exfoliation types have their pros and cons. Today, we will see in the K-beauty : physical vs chemical exfoliation, which one you should get. 
Generally it is said that AHAs specifically work best for dry skin. Then scrubs work better for oily skin. Regarding, people with sensitive skin, they can use both if they use gentle ones and check ingredients. Both types of exfoliation can also be used pretty much by all skin types. A lot of people also report having more benefits with chemical exfoliation, as it goes at a deeper level.
Types of physical exfoliants (ranging from gentle to strong) :
Peeling gel

Oatmeal

Konjac sponge

Cleansing cloth

Sponge

Plastic microbeads and Jojoba beads

Salt and sugar grains

Bamboo beads

Coffee grounds

Baking soda

Face brush

Sand

Microdermabrasion

And more…
Types of chemical exfoliants:
Leave-on glycolic acid, lactic acid, salicylic acid, poly hydroxy acid or other leave-on acids

At home peels

Medium and deep peels

Retinol and retinoid

Enzymes
Tips and Rules to Begin Exfoliating:
#1 Begin slowly, make sure to patch test first, specially if you have sensitive skin.
#2 Begin to introduce one new product per week, not more than one. Wait at least 1-2 weeks before introducing a new one.
#3 Do not over exfoliate! Be wary of signs of sensitive and irritated skin.
#4 Don't follow trends: not every product that everyone is using will be the right one for your skin and its needs.
#5 Always remember to cleanse before exfoliation, and moisturize afterwards. Here are our tips to do a perfect korean cleansing. 
#6 Start with a very gentle exfoliant if you're just beginning to try them out.
#7 Slowly begin increasing exfoliation: more times per week (still adapt it to your skintype), increasing the strength, etc.
…..
Of course there are plenty more exfoliant products to try, but we hope you enjoyed the examples. !Spoiler Alert! You will soon receive a Korean chemical exfoliator in your March JoahBox. Are you excited to try it out? Let us know in the comments!
---