TYPICAL KOREAN EYE MAKEUP LOOK IN 4 STEPS
As you may know, Korea is well known for the 10 step skincare routine. But… if you are interested in korean style, you may have notice that they have their own way of doing makeup. Korean makeup is always very bright, and cute. Today we will see how to realize a typical korean eye makeup in 4 steps.
STEP #1 : CHOOSE A FEW COLORS
Korean Eye Makeup Look only use a few colors. The purpose is to get a younger and brighter look while staying natural. The color range you should go for is either pink tone (peach) or brownish vibe. Keep in mind that you will add glittery eyeshadow to give your look some brightness. If you are a beginner in makeup, we must recommend you to use brown eyeshadow as it's easier to correct. In total, you must use 3 different colors.
First real step, contour your eyes with a shade that is slightly darker than your skin tone using a brush or finger.
STEP #2 : MAKE YOUR EYE LOOK POP !
It's time to add that brightening look we were talking about before ! In the center of your eyes, add some of that shining eyeshadow that you love. Just accord it to your first eyeshadow choice. For the look to be perfect, you should add the exact same colour under your eyes.
STEP #3 : V LINE TIME ~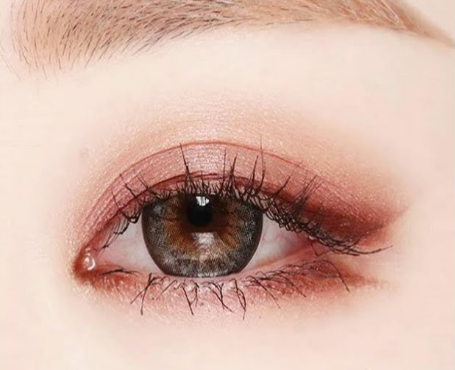 For this step, you can choose between working using eyeliner and eyeshadow or only eyeshadow. In both cases, you must preferably select a sharped brush to create v lines in three different part of your eyes. First, in the inner corner of your eyes followed by the outer corner. Finish by adding a V under your eyes, this one is responding to the outer V. Regarding the color, use a darker one either black, deep brown or dark red (if you are on the pink vibe).
STEP #4 : FINISH YOUR LOOK WITH MASCARA
This step is kind of the same for every makeup look but what can be different in this one is that korean girl are used to curl their lashes. If your eyes do not need curling then just simply apply mascara. Regarding the choice of masacara, we recommend the one with the cutest packaging, as Korea is well known for selling adorable products. Also for a deeper effect you can apply dark pencil on your upper waterline.
Now that you have perfectly completed your korean eye makeup in 4 steps you maybe want to get some more korean cosmetics. You can still order the June JoahBox, because we'd like to announce that one of the product you need for this makeup look will be included in the upcoming box… Also, for more details on the korean makeup you can check our article comparing korean makeup vs western makeup.
---