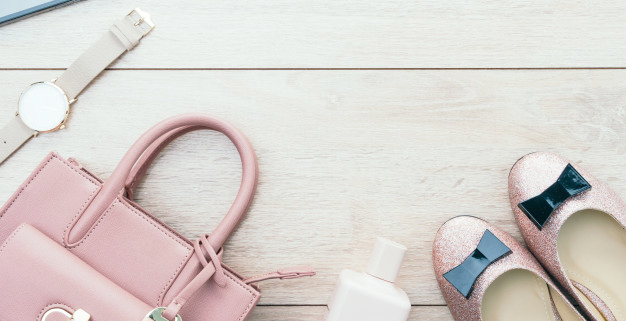 Fashion trends Korean Summer 2019
Because it's summer and summer also means doing something different to get out of routine, today we will talk about something else than cosmetics: the latest fashion trends Korean Summer 2019. It is not unknown that Korean girls´ fashion style differs to that on the west, and that is why we want to give you an insight to the fashion items that can be seen all around the streets of Korea.
…………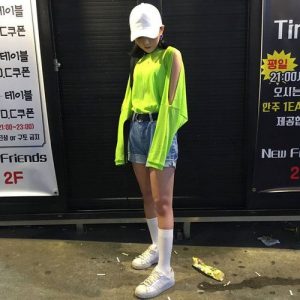 Fluorescent Colors
One style that definitely won't go unnoticed is the use of neon/fluorescent colors. This style was first introduced during the Seoul Fashion Week Spring Summer 2019, held last year in October at the Dongdaemun Design Plaza. Since then, Koreans have been incorporating bright neon colors to their styles, going from bright shades of pink to fluorescent yellow shirts or jackets combined with jeans for a more casual look. 
Hair Glitter

As you can probably tell by now, Korean girls love to stand out by wearing bold colors, and the hair is no exception to this. The trend of dying the hair in all kinds of colors is slowly being replaced by the use of glitter extensions. If you're old enough, you might remember seeing this trend back in the 90s and, just like other old trends, this one is coming back for this summer. However, before trying out this look we recommend you to follow a proper hair care routine to prevent any damage. You can check out our previous article on tips for summer hair care to enjoy this look and maintain healthy hair.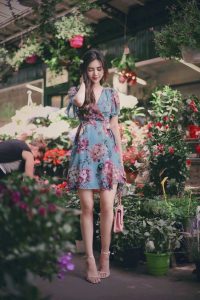 Pattern Dress
Summer heat in Korea is no joke and that's why a good summer wardrobe is not complete without at least one nice, fresh and stylish dress. While sometimes Korean girls like to dress with a bold look, as we mentioned before, sometimes they opt for a more cute and delicate look. Dresses with floral or polka dots patterns are among the preferred styles by Koreans to wear for a nice and romantic date at one of the many parks of Seoul.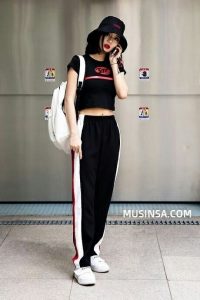 Bucket Hats
Baggy pants, crop tops, sneakers, and bucket hats are the essentials to achieve the famous "Hongdae style" look. While pretty much all over the world, baggy pants are the most important piece of clothes to achieve a hip hop look, in Korea, bucket hats play that role. And while they complement the look, they also provide some kind of sun protection in this hot and sunny summer weather.
Large Sneakers with high socks
Now, this trend with large sneakers has been going around Korea for quite a while now. And the best example of that is the Korean's all-time favorites Fila Disruptors. However, these large or chunky sneakers are now being paired up with high socks, giving the look that Asian touch that we all know and like. Besides, sneakers with thick and high soles, are not only comfortable when walking, but they also make you look some extra centimeters taller, and who doesn't like that.
For boys, Floral Shirt Print.
And last but not least, we want to mention some of the fashion trends among Korean boys. Since summer is all about colors, flowers, and beach vibes, boys have also opted for a more casual style to match the season: that is, the use of floral-Hawaiian style shirts, perfect for surviving the hot temperatures of summer.
…………
These are just some of the hottest trends in Korea for this summer and if you liked it and are interested in learning more about fashion or cosmetics trends in Korea, make sure to follow our page.
---