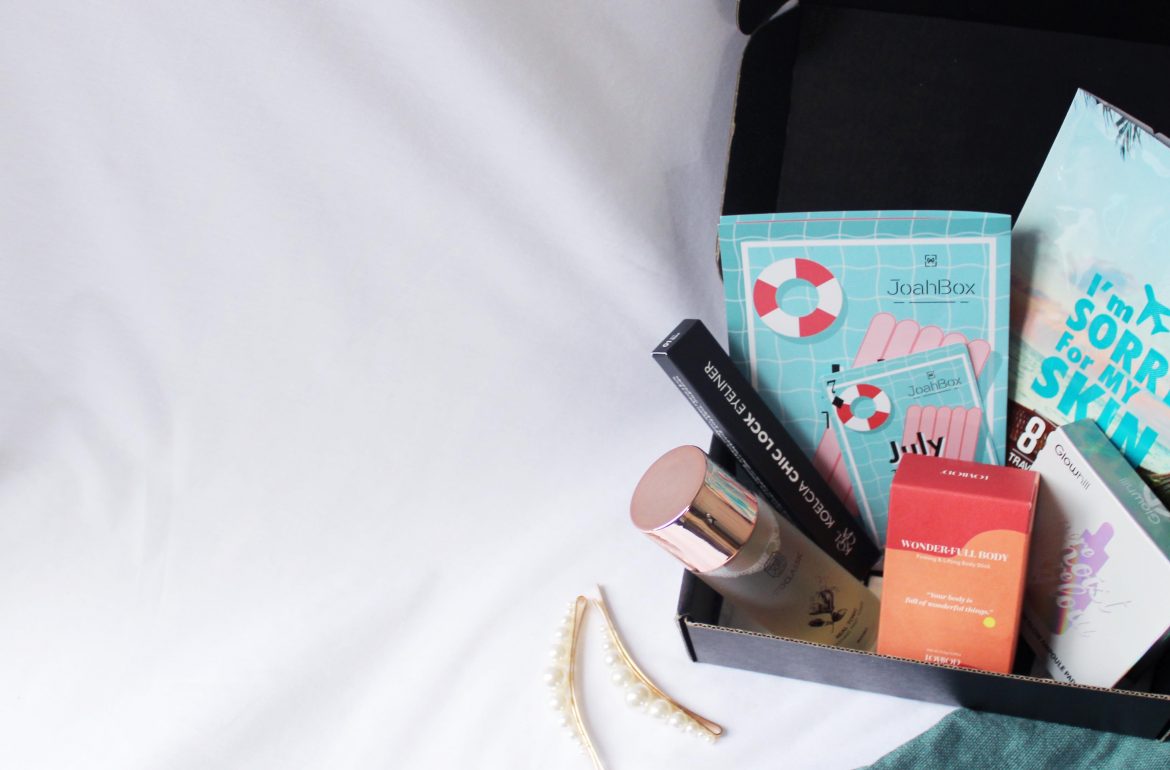 – TRAVEL KIT // JULY 2019 JOAHBOX UNBOXING –
For this summer, JoahBox team curated a special "travel kit" box to bring it with you in holiday. In the recent articles, you can find lots of good tips to use those product during summer. So, let's discover together our July 2019 Joahbox Unboxing ~
………..
LOVBOD //  WONDER-FULL BODY STICK // 15$ :

LOVBOD is a new korean brand specialized in body skincare. Their motto is "Love Your Body, Love Yourself" as they trust that our bodies are beautiful, no matter shape and size. Therefore, the Wonder-Full Stick helps firming, lifting and promotes supple skin making your skin firm and plump. It is composed with more than 97% of safe, vegan natural ingredients like sunflower seed oil, shea butter, sweet almond oil…
HOW TO USE : You can apply it directly all over your body but, mainly in dry areas like knees, elbows etc. 
JOAH TIPS : If you are one of these people that has irritation problems in between your thighs during summer, we recommend applying the stick in this area before going out. 
ATOCLASSIC // REAL TONIC SOOTHING FIRST TONER // 12$ :

The Real Tonic Soothing First Toner from Atoclassic is formulated with 12 Hanbang herbal extractions. Even the most sensitive skin can use it as it's low irritant and skin friendly. It will hydrate and revitalize your skin. Also, it's composed with Tannins extracted from Pomegranate, along with skin calming Honeysuckle. Toner is usually in bigger bottle but we tried to find one more "travel-friendly". 
HOW TO USE : Apply this toner as first step after cleansing to soothe, balance, and even out your skin tone. Put it directly on your face and tap gently your skin to soak it in. More information on how to use toner to survive summer heat.
GLOWHILL // TOTAL SOLUTION GLOW AMPOULE PAD // 10$ :

Not willing to take all your skincare on holiday ? Bring the 7 Ampoule pads from GlowHill. It will deliver a silky feel and moisturize as if you had used one dose of ampoule. The cotton of the pad is natural and free of FWAs. This Ampoule pad will brighten, clear and moisturize your face. It is composed of mainly Inca Omega Oil & Phytosqualane but also avocado oil, oenothera odorata oil, apricot kernel oil, & sunflower seed oil.
HOW TO USE : After washing your face, apply pad to absorb as if toweling dry. After your face, you can apply on the other dry areas like neck, elbow and heel.
I'M SORRY FOR MY SKIN // 8 STEP TRAVEL JELLY MASK // 5$ :  

Planning on spending one night in paradise ? Then, bring this kit with you ! You can complete an 8 Step skincare routine to keep your skin perfect easily.
HOW TO USE :
#1 Cleansing Oil :

Remove makeup and makeup base gently.

#2 Cleansing Foam :

Remove makeup residue, sebum and other waste.

#3 Body Wash :

Bubble shower time ~ Moisturize and cleanse your body gently.

#4 2 in 1 Shampoo :

This is 2 in 1 shampoo and conditioner to add shine to your hair.

#5 Toner :

Apply it to tonify freshly your skin.

#6 Jelly Mask :

Perfect mask to soothe irritated skin (too much sun for exemple).

#7 Emulsion :

Light and Fresh moisturizing lotion.

#8 Cream :

Forms moisturizing film on your skin to keep it hydrated.
KOELCIA // CHIC LOCK EYELINER // 14$ :
What would be a travel kit without good waterproof make-up ? This eyeliner is the one you need to use during this summer. You can easily create a slim look without fearing it will go away because of sweat or water. Also, it will stay from morning until late at night without smudging and it's really easy to apply. 
HOW TO USE : Apply it smoothly as you are drawing a line according to your eye line.
………..
What do you think of our July 2019 JoahBox curation? We are really curious to know what is your favorite July 2019 JoahBox product. Please share with us the product you would like to see in your next JoahBox and if you are already ready to order your August Korean Beauty Box it's here.
---