How To Clean Your Brush Properly
Did you know that cleaning your brush is essential ? We are not talking about cleaning them 1 or 2 times a month or a year, but each week, and even better every day. Clean your brush will avoid you to bring dirtiness on your face and not a smooth result. But, how to clean your brush properly ?
……………………………………
When exactly ?
For the foundation, concealer, and powder brushes you should clean them at least every week. Eyeshadow brushes needs to be clean in between each use, because it's in contact with your eyes, a really sensitive part of your face. 
How to clean your brushes ?
1. Fill a cup with hot water.
2. Add dish soap or a baby shampoo.
3. You can add also a distilled white vinegar or a citrus.
4. Mix it and put the brush under the water for about 20 minutes.
When taking them out, at first, take out the small brushes and rinse them with cold water. For bigger brushes – it's important to use a small comb to brush them and remove the excess of dirt stuck inside. Then you can remove the dirty water and let them dry. 
Tips : 1. Don't put the metal part of your brush in the water, because it can cause the deterioration of your brush !
2. Before drying them, don't forget to shape them !
Here are some interesting videos  of Kayleigh Noelle to check out ! 
Soap Bar For Beauty Blender !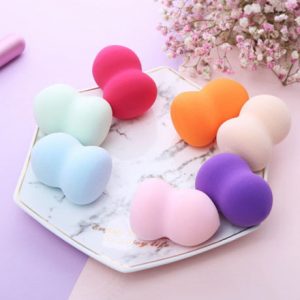 For beauty blenders, you must use a soap bar. Soak your beauty blender with water. When it's completely wet, take your soap bar and rub the beauty blender on top of it. Doing that, instead of using a dish soap or a normal soap will completely wash the beauty blender from the inside.
Other Cleansing Tips
Those tips are the easiest and cheapest way to clean your brushes & beauty blender. You can easily reproduce it at home. The bad part of it is that the dirtiness will not be 100% removed, but enough to avoid your skin to break down or have irritation.
If you want to try out another way to clean your brushes, without using your hand or  taking a lot of time, you can use a spinning brush cleaner. It is much more professional and efficient. It will clean and dry your brushes at the same time. You can use them immediately after it ! 
……………….
Did you like these tips on how to clean your brush properly ? What about cleaning your brushes today and at the same time removing the old one. For our last monthly JoahBox, some of you will receive the nice brush from the brand KICHO ! If you want to try receiving one check out our website!
---