Essentials products to have in your suitcase
Since summer is a synonym of traveling for must of us, today we want to give you some tips on what to pack to take care of your skin while on a trip. It's a list of the essentials products to have in your suitcase. In a previous article, we mentioned that one important skin care tips to survive summer heat is to use fewer products for your skin. Only stick to the one that fits your skin type the most. That is good news for you if you're planning to travel anytime soon because when traveling you want to keep your suitcase as light as possible.
…………
Cosmetics

The first thing that should be on your packing list is a toner pack and a cleanser. Making sure that your skin is clean after a long day at the beach is essential to keep the pH of your skin balanced. If you plan on doing makeup during your holiday, you should keep double-cleansing. 
For makeup, we recommend you to use preferably a BB Cream with UV protection to protect your skin from the strong burning sun. And, in case your purpose is to get a nice tan for the summer, don't forget to bring with you sunscreen and Aloe Vera gel to avoid getting a bad sunburn.
Beauty Accessories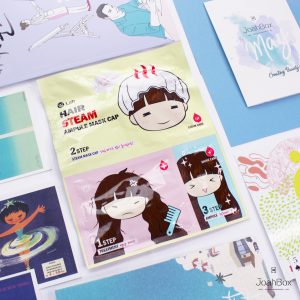 If you're planning a trip to the beach this summer taking proper care of your hair is essential. A good brush and hair ties might be already included in your list, but we also recommend to bring with you a hair mask. The hair mask will keep your hair from getting damaged because of the salt and sun. Hair accessories to stylize your hair for those Instagram shots are also a must.  Don't forget to include a razor or epilator and matte paper to keep your face oil-free.
Traveler lifesaver
If you have to take a plane this summer, we've put together some tips so your flight can be more enjoyable. The first thing you should check is your luggage weight. 
You want to make sure you're carrying the right weight to avoid stressing situations at the airport. Once on the plane,  a neck pillow, and eye cover are truly life-saving items because they can help you get proper rest during those long hours of flight. Also, carrying with you a Korean sheet mask for the plane will help you keep your skin from getting too dry, and it will definitely give you fresher look once you get off the plane.
From personal experiences, we recommend you to take with you a pair of comfortable shoes. And just to be cautious, a small medical kit with some medicines for possible headaches, stomachaches, and some bandaids can be helpful later on.
…………
In our latest July JoahBox, we included an 8 step travel kit. This kit is perfect to keep your luggage light and still carry everything you need to take care of your skin while traveling. If you're traveling soon, we recommend you to use and share with us your thoughts on it. If you are interested to see our latest curation, you can subscribe to JoahBox.
Don't forget to share with us your plans for this summer and some of your personal tips when traveling!
Summary
Keep your skin clean with a toner and a cleanser, and protect it by using sunscreen to avoid painful sunburns
You'll need a brush, hair ties, and other accessories to make your hair looks good. Don't forget to take care of your hair by using hair masks.
Try to relax during your flight by bringing with you a neck pillow, eye covers and some medicines just in case!
---