TOP 5 TRAVEL DESTINATIONS IN KOREA FOR SUMMER 
Although summer in Korea can be a bit too hot and humid, it is still the best time of the year to travel around the country. Korea has a lot of beautiful places you can visit.  So in case you're planning a trip to Korea for this summer, we've come up with the top 5 travel destinations in Korea for summer.
……………………
Jeju Island
Our number one destination has to be Jeju Island without a doubt. Jeju is the perfect getaway to paradise. Often called the "Hawaii" of Korea, Jeju won't let you disappointed with its beautiful beaches and landscapes. Its volcano and of course, the tons of delicious food you can try. And the best part? It is only a 45 minutes flight away from Seoul. So even if you're a bit busy during the summer, you can still go during the weekend and have a good time.
Jeju's volcanic soil is rich in natural minerals that are used by many cosmetic companies in Korea to elaborate skincare products. Innisfree and Amorepacific use volcanic minerals and also green tea. 
Green Tea is the other popular ingredient found in Jeju. It is used due to its properties that contribute to destroying acne-causing bacteria. It also reduces redness and inflammation in the skin.
Jeju is not only a travel paradise but a skincare paradise too. So we recommend you to try cosmetics from Jeju and let their natural properties work magic on your skin.
Busan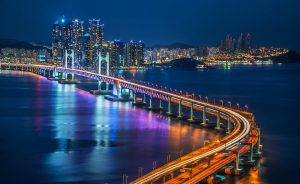 Busan is the second-largest city in Korea after Seoul. It is only 4 hours away by car and one of the most popular destinations in mainland Korea. Busan is mainly known for its famous beaches like Haeundae and Gwangalli. But there are plenty of other activities to do around. From temples by the beach with stunning views and cliffs next to the ocean to the biggest department store in Korea, you'll be able to enjoy your time there.
Seoraksan National Park
If you prefer mountains over beaches, make sure to include Seoraksan National Park. It is the most visited mountain in Korea. And although it is especially beautiful during the fall, going during summer is definitely worth it. You'll get to see beautiful landscapes, reconnect with nature and also breathe clean air.
The Park is only 3 hours away by bus, and once you get there, you can choose the route that fits the most for you. Whether you are a hiking expert or just a beginner, you'll be able to make it to the top.
Gyeongpo Beach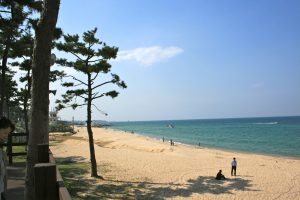 If you're in Korea for a few days, maybe a trip to a closer beach from Seoul would be better for you. Gyeongpo Beach is located in Gangneung, just 3 hours away from Seoul. This city gained popularity after the Winter Olympics in 2018 and since then it has become one of the favorite destinations for Koreans. The beach is famous for its white sand and its crystal clear blue water. Lots of pretty cafes and good restaurants can be found nearby, so you'll be able to enjoy a nice meal with a beautiful view. 
Han River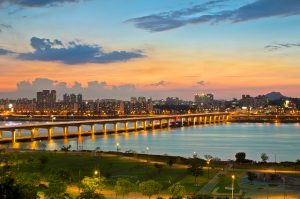 You might have heard already of Han River. It appears in many Korean dramas and even music videos. The reason why this river is so popular is due to its location, right in the middle of the city, and also on the many parks and bike trails that surround it. A picnic by the river on a summer night is probably one of the best activities to do around the city. You can also rent bikes or, if you want to do something fancier, you can take a cruise down the river. The views of the city at night are truly mesmerizing.
…………………
If you follow us on Instagram or Facebook you might have noticed that some of our latest pictures were taken in one of these destinations. Can you guess which one? Would you like to learn more about travelling in Korea? Give us your thoughts on this.
At JoahBox we try to find the best products for you and your skin! Don't forget to follow us on social media and subscribe to Joahbox to get the latest fashion products.
---