JoahBox Team Skincare Routine #2 :
OILY SKIN
With her oily skin, Elena personally cares a lot about keeping balance between moisture and dryness the most. Take a moment to have a look at her JoahBox team skincare routine, and give it a try because your skin is as valuable! 
…………………….
Elena's Key Words for her Skincare:
#Bare-face preferred (putting sunscreens no matter what) , #Cleansing Focused
#1. My Cleansing Routine
The very first step I take in the morning is to double cleanse my face with cleansing oil and foam. I also cleanse my face two times in the evening as well. The cleansing foam that I use is Pore N Clear Foam from The Plant Base. It is effective with intensive pore care with 71% of tanning extract. Also, France patented ingredients help tighten and firm up saggy pores and keep your skin smooth.
#2. Toner, the one you should not miss
After cleansing, I apply toner with cotton pads. The toner I use is Peptide No-sebum Balancing Toner from D'Alba. This toner contains BHA ingredients which gently removes dead skin cells and sebum such as whiteheads or blackheads, so it is more efficient to apply it with cotton pads than hands. Gently wipe out your skin with cotton pads soaked with the toner.
#3. Time for Cream, Ampoule etc
Next, I apply eye cream. Because the skin around the eyes are more fatal to wrinkles compared to other parts of your skin, I never forget to take special care for my eye rims. Pat moderate amount of cream softly on the eye rims until the skin absorbs the cream. Nowadays, I am trying Multi Treatment Eye Cream from D'Alba. The concentrated functional ingredients of the eye cream nourish the skin and reduce wrinkles. It contains white truffle which is a well known ingredient for anti-oxidation. 
Then I move on to apply essence or ampoule. Especially during winter, I always apply ampoule to keep my skin moisturized. The ampoule I prefer is called The Time Stop Collagen Ampoule from the brand The Plant Base. This ampoule formulated with Hericium Erinaceum, Mushroom extract (76%) and STN-COLL rejuvenates your skin by preventing the formation of wrinkles. Also, it is indeed moisturizing for sure.
#4. My morning last step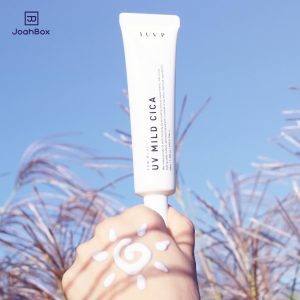 Last but not least, I put on sunscreen. No matter what the weather is like, I always put on sunscreen to protect my skin from the UV light. I personally prefer physical sunscreen, since it causes no harm on my skin. However, if you are worried about white cast due to physical sunscreen, try applying Luv P. Sunscreen in our October Box, as it doesn't cause white cast but moisturizes your skin.
……………….
If you enjoyed my JoahBox Team Skincare Routine and you have an oily skin, you can try on some of the products i mentioned by ordering monthly at JoahBox or you can check out our sales ! Be quick it will soon be unavailable. If you have oily skin we will be super happy to receive some of your tips and favorite products on the comment section below.
---